MARCH 29, 2021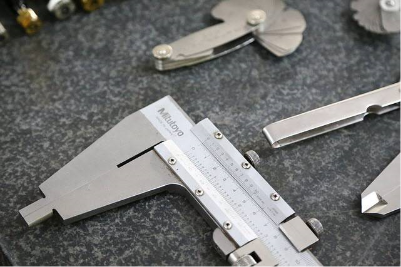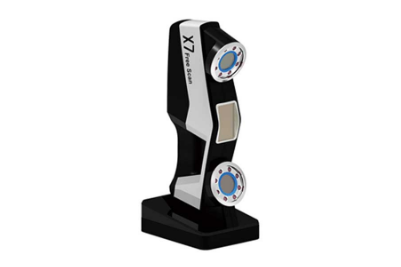 Inspecting large parts is always mind-boggling!
At first, it may appear to be a straightforward scanning task. But it can quickly turn into a multi-phase project that stretches out into weeks! Let's look into the challenges and solutions in handheld 3D scanning of large parts
Challenge
The customer uses a tactile measurement system to measure large-sized and heavy-weighted casting parts for the quality control process but left other details untested because the casting component is hard to move. We cannot go for an optical structured scanner or CMM because it is time-consuming. The quality measurements of parts cannot be effectively controlled, leading to considerable deviations in harsh environments.
Solution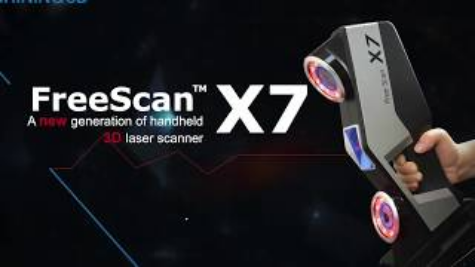 Thanks to an industrial 3D handheld laser Scanner that offers simplistic and unparalleled 3D scanning of large-sized components, it captures all details of the components effectivel but PRECISE3DM's Handheld Metrology 3D scanning solution from Shining3D Freescan X7 3D scanner, a perfect option for large-sized casting parts.
It's a metrology-grade certified handheld portable type laser scanner. It features a flexible and convenient scanning mode to scan large measurement objects with complex shapes. The accuracy ranges up to 0.03mm.
Geomagic control X comprehensive 3D inspection and digital measurement software helps to extract any advanced measurement on a 3D scanned file
3D Scanning & 3D inspection Workflow
Blue and white light 3D Scanners use structure light 3D Scanning technology in which the projector projects the fringe pattern to the surface. It limits the scanning field of view for 3D scanning the large objects.
We prefer FreeScan X7 as it uses the laser as a light source and it is not harmful to the eyes. It can work in harsh environments and generates as-built raw data.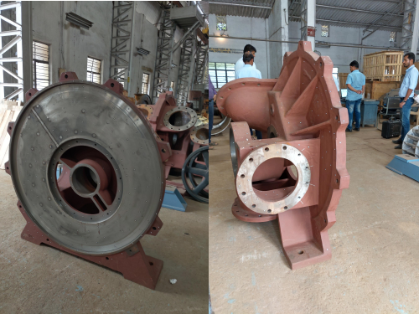 Applying the white spray to the pump casing part for recognition by the scanner is not required in the FreeScan X7.
For the volume of a part to be scanned, GD&T inspection has to be done to verify its flatness
Die preparation before the scanning.
FreeScan X7 works with a Sticker based method. The reference for Scanning large parts is taken by placing target stickers on them.
FreeScan X7 is used to scan the pump casing part in the shopfloor now.
Mesh conversion is done and the output data is stored in .stl format
3D inspection is done in Geomagic Control X software using the Coordinate Alignment method
3D and 2D measurement of the part is done in Geomagic Control X software
GD&T surface measuring of the part is done in Geomagic Control X software
Views have been driven and the first statistical inspection report has been generated
Hardware used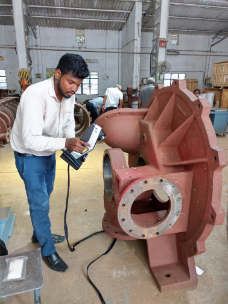 FreeScan X7 is an industrial-grade 3D Laser scanner system with only 0.95 kg following Laser class II eyesafe certified & German VDI/VDE 2634 calibration.
Software used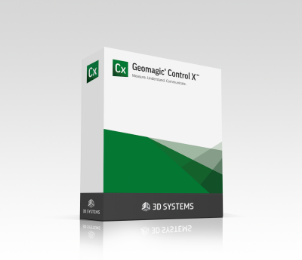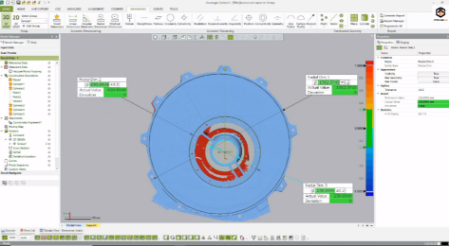 Geomagic Control X is an absolute metrology grade, quality control software that's equipped with powerful tools designed to improve multiple existing workflows. With this smart metrology solution, experts have access to a full range of user-friendly, intuitive controls, alongside traceable, repeatable workflows for a more efficient quality measurement process.
Results
FreeScan X7 is considered the best scanner for scanning large parts. It is used in metrological inspection for its adaptability and quick response, The whole scanning is done within 15 minutes.
What's next?
Laser scanning opened doors for digital imagery, drones, and virtual reality to create open-source visual representations of culturally important sites around the world. They aid in the preservation, maintenance, and even restoration of these often ancient structures.
We, PRECISE3DM have a team with extensive technical experience in creating tailored solutions for clients using laser technology.
RECENT POST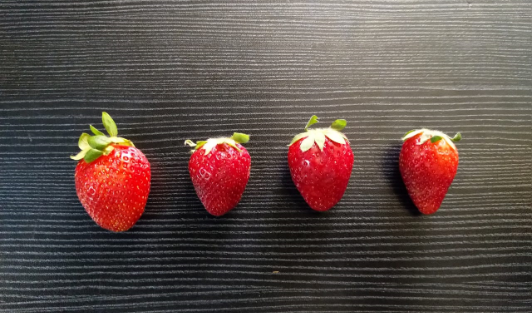 MARCH 24, 2021
3D SCANNING OF A STRAWBERRY?
This is an honest and inspiring story about an organic object with a complicated surface topology getting scanned. In recent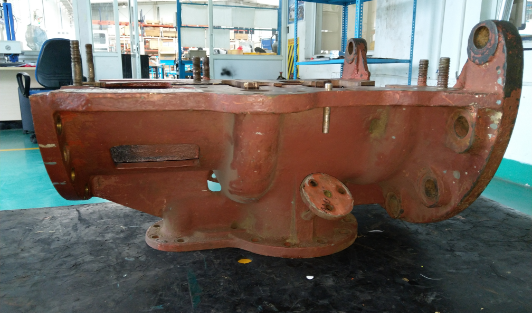 MARCH 24, 2021
REVERSE ENGINEERING OF WORN OUT CAST PART
We have the better answer. In the modern world, a lot of technologies paved the way for a better understanding of the